New or updated commercial HVAC in Rhode Island is typically expensive. In turn, business property owners often want to know how long that system should last! Additionally, understanding the average lifespan of various systems can help you decide when to repair versus replace that unit.
Your HVAC repair contractor is the best information source when it comes to your property's system! However, you might also note statistics about HVAC lifespans and what affects those appliances. You can then make the best decision when it comes time to repair or replace your commercial HVAC systems.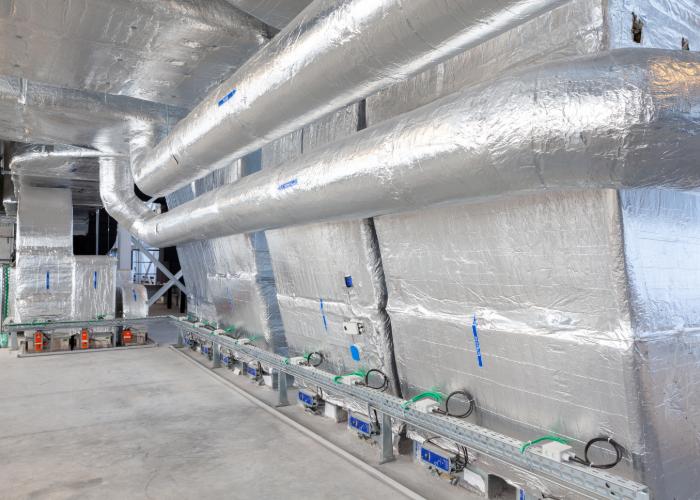 How Long Do Commercial HVAC Systems in Rhode Island Last?
Most commercial HVAC systems in Rhode Island last 10 to 15 years, depending on their quality and everyday use. To ensure your system lasts as long as possible, note a few suggestions:
Change the furnace filter regularly, even during the summer months! Property owners often don't realize that HVAC systems pull air through that filter while the AC operates. Clogged filters put added wear and tear on the system, risking premature breakdown. In turn, you'll want to change that filter at least twice per year, if not even monthly.
Invest in regular tune-ups. Maintenance calls spot premature damage, while oiling and cleaning keeps those parts working optimally.
Keep air conditioner compressor units clean and free of debris. Clogged grilles and other parts put added wear on the system and can cause an early breakdown. Also, ensure the evaporator hoses are always clean and clear.
Check for developing rust and corrosion along your commercial HVAC system. If you notice rust forming, consider a dehumidifier or other waterproofing in the space where those appliances are kept.
Have a contractor check your property's ductwork for needed cleaning and repairs. Dirty or leaking ductwork makes HVAC systems work harder.
Also, ensure your building is insulated properly, to keep your systems working as infrequently as possible. Poor-quality insulation often allows an HVAC system to cycle on more than it should, risking breakdowns.
Above all, schedule needed repairs quickly. The longer you allow an HVAC system to run with damaged parts, the more risk of even costlier issues developing!
Can HVAC Last 30 Years?
Some high-quality HVAC systems, properly maintained, can last 30 years. This doesn't mean you should put off needed replacement for your system! Note some considerations to remember when deciding between repairs and replacement for your appliances:
No matter its lifespan, an HVAC system tends to break down over time. In turn, you might pay more for repairs the older the appliances. Newer appliances can then mean uninterrupted service and less risk of breakdown in the upcoming years.
If you're thinking of selling your property anytime soon, consider if older appliances might affect its resale value. On the other hand, investing in a new HVAC system protects property values and makes it more appealing to buyers.
Older appliances often operate less efficiently than higher-quality heating and cooling appliances. Consequently, investing in a new HVAC system might mean lower energy costs year-round.
Renovations and additions to your structure can affect airflow from appliances and, in turn, their overall efficiency. If you've remodeled your property, you might consider an upgraded HVAC system as well.
More powerful HVAC appliances can mean faster heating and cooling and better dehumidifying during summertime. In turn, interior spaces are often more comfortable for your staff and visitors!

How Much Is a New Rhode Island Commercial HVAC System?
A new commercial HVAC system might average between $7,000 and $16,000 for a 1000 square foot building. Costs typically reach the high-end of these averages if the building needs new ductwork and vents or other upgrades. Additionally, your contractor might install a zone thermostat, for better control over the building's heating and cooling.
When deciding on a new HVAC system, remember that you don't want to make your choice based on price alone. It might be tempting to save on installation costs by choosing an off-brand system. However, higher-quality appliances often last far longer than their less costly counterparts. In turn, a low-quality HVAC system might mean higher costs for repair and replacement over time!
Rhode Island HVAC Services is happy to provide this information about commercial HVAC in Rhode Island to our readers. We hope you found this helpful when it comes to your property's heating and cooling. If you're in the market for repairs or replacement, call our Rhode Island HVAC contractors today. We offer guaranteed services, using only the highest quality choices on the market today. To get your property started, just give us a call!